Essay Mill Spam
Click here if you'd prefer this post on essay mill spam in the form of a video
Essay mill and contract cheating services are as visible as they've ever been. This has to be creating a challenging market for those companies looking to peddle their unethical wares to students. After all, students now have a wealth of people offering assignment production services that they can choose to purchase work from.
Companies have already begun to play hardball with their marketing to try and get customers. This has got so severe that some essay writing ads have already been banned in the UK, certainly a step in the right direction.
What's next with essay mill marketing? What we're now seeing are companies finding ways to get their messages to students, whether they've expressed any interest in paying for a completed assessment or not.
I've rounded up several examples of how essay mills are spamming their services for this post.
Email Spam
Here is an extract from an email advert that one of my former students received directly to his university email account.
This is also an email address he hadn't used outside the university and for which the account details weren't listed anywhere online.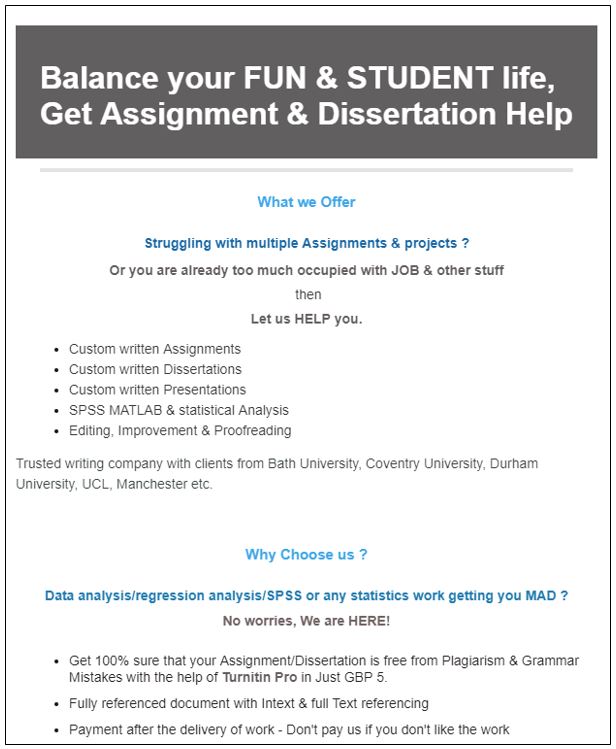 It may not be the best ever advert, but it would certainly get noticed in a student email account.
All of the classic sales points are there, including the mention of prominent universities, a distinctive offering of statistical services and the option to sell Turnitin reports (something which really shouldn't be possible).
Despite being advertised as a UK company (including a UK address), further investigation suggests that this company is almost certainly based in Pakistan.
It is not clear how the student's email address was accessed. It may be through access to email account details, through a link inside the university with access to address books, or perhaps just automatically guessed email addresses (many universities use email accounts that are formulaic in nature).
These services don't differentiate between staff and students. I too have received spam emails from essay mills to my university staff email account.
Twitter Spam
I've discussed before how essay mills and individual academic ghost writers have used Twitter to connect with students. Some accounts are set up to "talk" to anyone who posts tweets about essays. Here's a post with an example of how Twitter spam takes place.
This process is now much more automated than it ever was before. If your tweet contains word combinations along the lines of write essays, chances are you'll immediately receive both public and private offers to help from would-be helpers.
Thankfully, many people are now starting to fight back, or at least make it clear that they do not support the essay company spam. Here are some recent examples from Donna Yates and Joseph Gordon Diehard.

Other Types Of Essay Mill Spam
There are many other ways in which essay mills use spamming techniques to get the message about their companies out there.
If you run an educational blog, post related videos on YouTube, or submit content to anywhere that allows comments, you're bound to find essay mill spam posted to them before too long. There's a chance you'll get such comments even if your site has nothing to do with education, as so much of this spam comes from automated software.
Sometimes this is more subtle. Right now, one of my contract cheating articles on The Conversation has several comments from essay mills showing. Even though the comments may not be spam, the links going back to the essay writing services themselves are very visible.
Use Facebook and find yourself looking at Facebook Pages relating to essay companies? Don't be surprised if the Messenger box puts up and asks if you need help.
I wouldn't be shocked to hear of essay mill spam being circulated through SMS messages and WhatsApp.
Even the Wikipedia articles on essay mills has seen companies attempt to edit at and themselves as credible sources. There are also essay companies taking advantage of web site vulnerabilities to spam.
There's only one place I think is safe and that's your own letterbox. I haven't heard of essay mills physically pushing leaflets through people's doors – at least not yet!
For More Information
You can find out more about essay mill spam in this video.
You can also contact me if you'd like to find out more about academic integrity and working with me.