How far do we trust what's published as news? In this era of fake news, it's interesting to note how article spinning and machine-based plagiarism can make even the most trustworthy news feel suspect.
(full disclosure – in the interest of making the best of use of materials, this blog post is based on two slides of a presentation I never gave)
Back in June 2015, Channel 4 Dispatches ran a story about essay mills and contract cheating, which I contributed to. A very of it ran in The Guardian.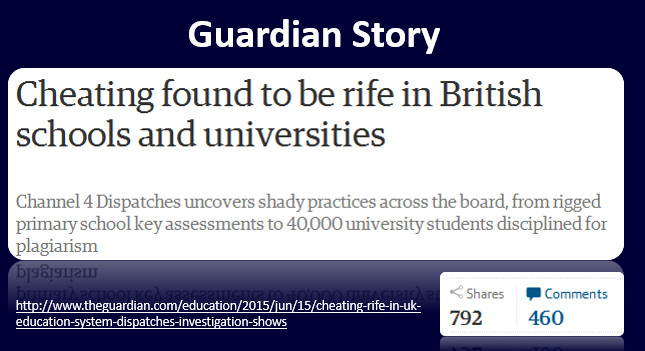 As with so many news stories, this ended up in various versions around the Web which vaguely looked like the original. Here's a comparison between The Guardian version and the Best Education News version.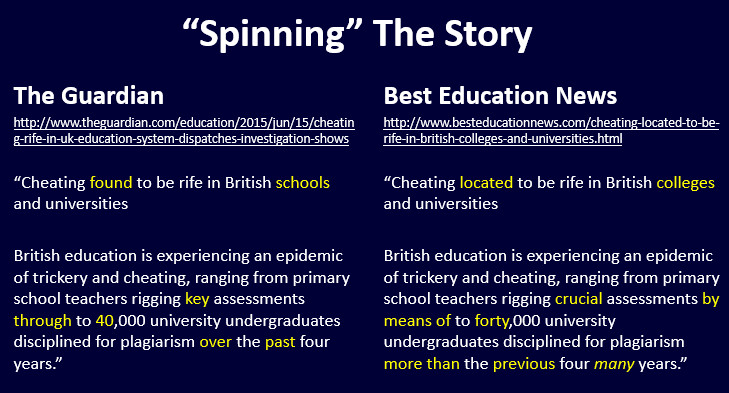 The second version is derived from the first, presumably through some automatic method of machine-based plagiarism. This may have been completed manually, but it looks unlikely based on the strange choice of words.
Unlike many plagiarism cases, it's very obvious which the source document was and which was plagiarised version was. The source can be identified as it carries authority and the language makes sense in the original context.
The plagiarised version doesn't make complete sense. Even the words "schools" and "colleges" have subtly different meanings. This also demonstrates how easily the meaning of a phrase, or whole news report can be changed by bad wording.
Certainly, a contributor to fake news and to false news.
The way in which students are using tools like these has also begun to receive attention recently. I have previously looked at this under the title of essay spinning, but there are other related areas of work such as back translation. The term machine-based plagiarism has also been suggested to cover the whole field.
There are lots of opportunities for research in this area, both to investigate automated plagiarism in student work and in the related area of news stories. I can see this offering an increasing challenge to academic integrity in the future.
(or, as an esteemed colleague of mine would say "the walls are falling in")!