This is the third in a 10 part series looking at how contract cheating has changed since the term was first publicised in a research paper and presentation in June 2006.
The Academic Job Market
One of the lesser spoken about developments in contract cheating has been the emergence of a whole group of writers who are willing to create original work for students.
On the face of it, academic writing services (as these are commonly known), do not look to offer the most appealing employment prospects. The work can be repetitive and includes long periods sat in front of a computer screen. The work is seasonal and demand unpredictable. And, this work is helping students to cheat, an area which should raise ethical concerns for anyone involved in the industry.
So, why do people complete assignments for others and how in demand really is this work? This contract cheating blog post sets out to explore what's involved.
Who Writes Essays For Other Students?
Although, this used to be an industry that operated behind closed doors, nowadays writers seem much happier talking to academics and the media about what they do and why, as well as publishing their own blog posts (and even books) about their involvement in the industry,
Here are profiles of just a few of the types of people involved in writing essays and preparing bespoke assignments for students,
Would You "Pay To Work" As An Academic Writer?
A further interesting development is the market in people helping others to get academic writing jobs.
Much of this is financially driven. I've seen examples of all of the following ways of making money from other writers:
commissions on writer earnings by referring writers to a site
paid training packages, showing writers how to pass essay site tests, or how to writers essay in the form that sites like
services to take the entrance tests required to get accounts on writing sites
services to hide the location of writers, so they can get around location restrictions (for instance, none native writers trying to get the rates advertised for natives)
There are whole online communities where writers discuss the different essay industry providers and try to identify which sites are the best to work for.
A whole black market in developing and selling accounts for essay writing firms has also developed, aimed at those writers who can't easily get their own accounts.
Although much of this is done through private communities, there are some examples visible on public sites, such as Facebook.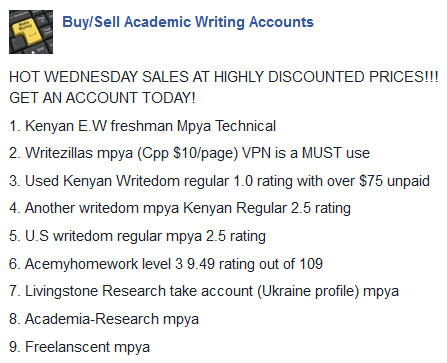 As the image shows, the range of accounts available is huge, covering many popular academic freelancing sites, some of which even have an account balance waiting to be withdrawn. This particular example is largely for the writing market in Kenya, one of many locations where writing jobs are sought after.
The rates for buying writing accounts such as these are not cheap, ranging from anything from $100 USD at the lower end, to $1000 USD for established accounts at the upper end. That would take some time to pay back at the bottom end rate of $2 USD per page. There is also always the risk of accounts being shut down once transferred, particularly if the new owner receives poor feedback.
Should We Address The "Writing Providers" For The Essay Industry?
These are just a few examples of the power behind the online writing industry, particularly when it's accompanied with many more writers than are ever needed for the demand that is out there. Indeed, there are workers who have complained about the internal competition within the writing industry bringing wages down.
I've only included a few examples of the types of writers completing assessment for students here. There are many more examples in the recent talks and keynotes that I've delivered.
Indeed, the whole field of who writes what and why is much more complicated than this. I've observed a writer online who only likes to take on high level work at MSc or PhD level as he relishes the intellectual challenge. I've also spoken to a writer who is happy to complete work on a variety of subjects, regardless if he has any personal experience, but draws the line at subjects that causes him ethical concerns, such as nursing.
Nevertheless, there is good work available for writers who understand the marketing side of the business, how to develop student links and how to charge more for the work that they're doing.
From an academic perspective, we need to be continuing to address all sections of this writing business. How can we identify the low-end writers who turn out continual turn-key type assessments, but clearly do enough to pass? And, how can we make producing high end assignments impossible, even though there is a lot of money moving around here, so clearly incentives from the writing side for this to continue?
The essay industry continues to be a complex beast.
This article is part of a series of posts looking at the developments in contract cheating over the past 10 years. Take a look at the remaining parts of the 10 in 10 contract cheating series here