I'm currently involved with a JISC Supporting Technology Startup Project, aimed at improving the ways in which students learn computer programming.
The idea behind the JISC competition is a strong one, involving taking existing technologies that support education and putting these through a robust startup and development programme so that they can benefit from large scale trials. Teams submit both a video and written pitch about their technology. The successful teams receive financial backing to move their ideas forward.
I'm working with a team of students as partners.  I enjoy collaborating in this way, as it matches well with my teaching and learning ethos and the overall direction in which I feel higher education should be moving – a win, win.
This isn't the first year that JISC has run the Supporting Technology Startup Projects competition. I've analysed the competition entrants from 2015 to see if I can identify what look like fundable trends. Clearly, this isn't a complete solution, as it does not have the details of the full pitches from the interview process, but it does raise some interesting ideas.
The results are shown in the infographic (click the graphic to view it at full size).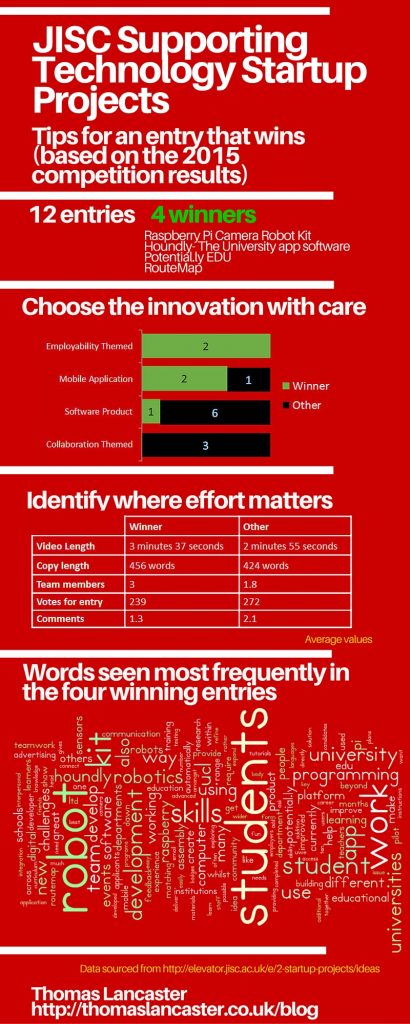 The sample size is relatively small, and unfortunately the data isn't there to identify which teams were invited to interview (a process from which the winners were selected), but it's interesting to see that the number of votes doesn't seem to have mattered too much. One winning team gained only 72 votes, under the usual target of 250 votes that were requested.
The 2016 competition has many more entries and what looks like a stronger field overall, so I suspect that the voting threshold will be important. But, the question exists if the same areas still be considered of importance and be judged successful.
All of the winning projects from 2015 are interesting. The range of ideas there are diverse, including a project that focuses on electronics and computer hardware. There is no clear indication of whether staff or students team fair better, or if there are any benefits to partnerships (my personal belief is that there are).
Some quick notes about data collection. Out of the 12 entries in 2015, one of the unsucessful entries has also since hidden the video pitch, which slightly reduced the sample size for this aspect, but I don't believe that this has changed the results. I have also only processed the written pitch in detail. If any additional information was included only in the video pitch this hasn't been seen.
Some projects mentioned that they had access to a team of developers, but as these people were not named or included as official participants, I have assumed that these were essentially developers for hire. They have not been included in the team size analysis.
There is a lot more potential for further analysis to determine what makes a winning video pitch, as well as how closely the video pitches and written pitches are aligned.