How much does it cost to buy an original bespoke essay from an essay mill or other contract cheating provider?
The cost can vary substantially, even though many essay mills work with the same pool of writers, or at least workers with very similar backgrounds and experience.
This infographic illustrates the range of prices a prospective student would come across when looking to purchase a 2000 word essay.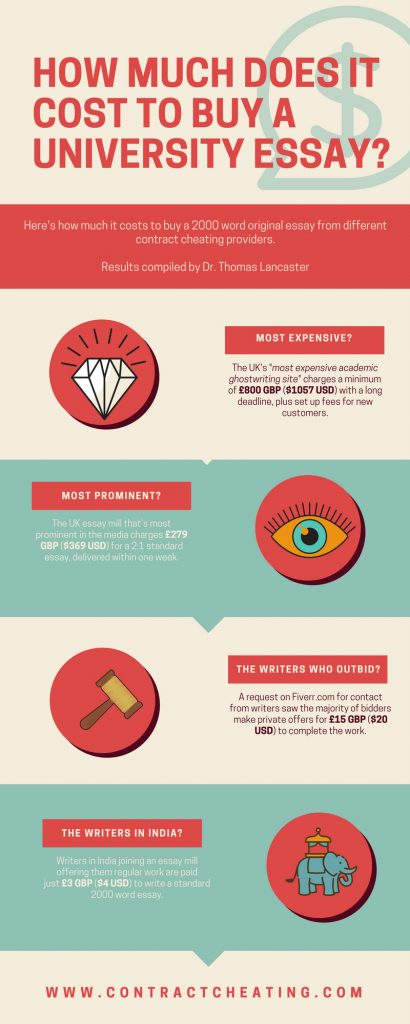 The pricing, correct as of August 2018, is wide ranging. At the bottom end of the market, workers in the equivalent of essay factory "sweat shops" are expected to toil away for just £3 GBP ($4 USD) (see slide 42 of the link). At the so-called top end, there are companies who won't even start looking at an essay before a payment of £800 GBP ($1057 USD) is received (source https://www.academicghostwriting.com/costs).
A typical service with UK offices asks for £279 GBP ($369 USD), although there are ways to further discount that price (source https://www.ukessays.com/quote.php).
In one of my own experiments, I connected directly with writers and found that most wanted £15 GBP ($20 USD) to complete the work. Had I proposed a lower price point, I'm sure that the quotes I received would also have been lower. And the typical £15 offer I received is still much more than the writer could expect to end up with had they worked with an essay mill taking their cut.
What About Buying A Dissertation?
Everything about the essay industry is negotiable. Here, for example, an essay mill original quoted a nursing dissertation price at £870 GBP ($1148 USD), but proposed a new price of £600 GBP ($792 USD) when the customer wavered only slightly.
Here @RoryWaterman negotiates with an essay mill to reduce the cost of his plagiarism free 12,000 word dissertation on Caring For The Elderly in Nursing Homes from £870 to £600 (but 5p a word is still overpaying) #contractcheating https://t.co/YZpSDbwf1X

— Thomas Lancaster (@DrLancaster) August 16, 2018
Further discounting would have been possible. As my previous analysis has shown, essay mills pay huge referral bonuses for those affiliates bringing in new customers (see slide 53 of the link). This makes it clear that essay mills have lots of movement on pricing. This still leaves room for them to profit, even after they have paid their writers – an amount for the writer which often works out as a tiny percentage of the amount that the essay mill is paid.
Even though students may pay more (and take on the risk of being scammed or blackmailed) the cost of hiring an essay writer directly is low. Setting assessments that are not easy and cheap to outsource, those "bread and butter" type requests that contract cheating providers love such as basic business assignments and marketing assignments, is of importance for the continued integrity of education.