Much attention has been paid in the UK to the petition aiming to ban the advertising and provision of essay mill services. This says that you can buy a PhD for £6,750, a figure which has been floating around the media for some time.
But, is it really possible to buy a PhD online and for a price similar to this?
The answer, unfortunately, is yes.
You can definitely buy PhD level writing. And a student who is familiar with how the essay industry works can find a better value PhD thesis than that offered by a typical essay mill.
How Do You Go About Buying A PhD?
You can, of course, buy a fake PhD certificate, or use your "life experience" to get a qualification from a fake university. But such qualifications are unlikely to stand up to external scrutiny.
You might try and make connections directly with a writer and work with them.
But I suspect most people will see the type of advertising for PhD mills that appears when you search on Google. It's hard to avoid it, as even a prospective student looking for advice about which university to study a PhD at will be hit with ads of this type.


The advertising for PhD writing services is nowhere near as advanced as for essay mills but many of the same marketing techniques are in use. You see guarantees, discounts, promises of fast turnaround times and the old favourite of "0% plagiarism". But, with my marketing hat on, I think you can also tell that these services don't really understand the prospective PhD market – although I'm not about to provide free consultancy for here to help them improve.
The less developed market for PhD writing services is also reflected in the cost per click prices charged by Google (the amount each advertiser pays every time someone clicks on the link). Advertising for PhD mills is generally cheap.
There are some high value keywords. For instance, Google in the UK suggests that advertisers bid between £11.22 and £20.49 per click for the search term "phd thesis" to get at the top of the first screen (the only position that really counts).
But many terms go for much less. A search term like "buy phd online" only requires a cost per click between £1.15 and £4.92. These costs are usually far lower than the equivalent terms for essays, coursework and assignments.
How Much Does A PhD Thesis Cost?
The web market for buying PhD level work is nowhere near as advanced as equivalent essay mills for undergraduate level. Many of the essay mills I checked advertise they will write PhDs, but do not have any detail or pricing information available on their website.
I did find a site which sold PhD by chapters. A 75,000 word PhD thesis would cost around £6,000, not far from the headline figure used at the start of this post. However, the site also advertised having coupons available and I suspect I could have easily have pushed that price below £5,000 had I asked for a discount in the online chat.
There are much more developed PhD mills out there. Some show understanding of the contract cheating PhD level market.
One PhD mill, for example, splits its services to match the stages of the PhD journey where a student might want to hire support.
This includes everything from help with the initial application and proposal, through to chapter writing, to tutorials and mentoring for the final viva. It also claims to offer a premium service of publishable level work, produced in collaboration with an academic expert. For that level of service, enough to build the credentials for an academic job, the 75,000 word thesis would work out at £22,500.
As my research investigating academic writers has shown, many essay mills find low priced writers and just act as an intermediary. Such budget price writers do exist at PhD level, even if they are harder to find. Presumably, some writers relish the intellectual challenge of completing advanced research as opposed to just writing basic essays.
And, you can buy a custom written PhD thesis much cheaper.
A report in the Indian media has shown that an original PhD thesis can be purchased in India for 50,000 Indian rupees (about £540), with payment in installments possible. The source claims that PhD writing offers like this one are not uncommon and that academics will moonlight as PhD writers. I also understand that similar services can often be found advertising in newspapers in India.
PhD writing requests also occasionally appear on the major freelancing sites.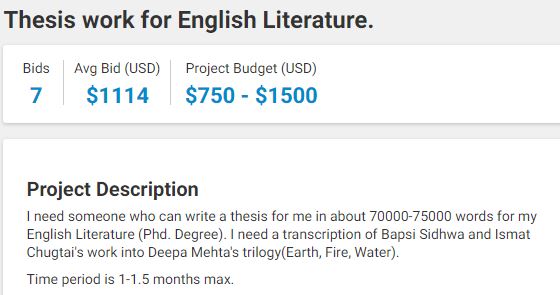 A (live at the time of writing) request for a PhD thesis on English Literature, from a buyer in Pakistan, saw 7 people, mostly from India, offering to complete this in six weeks at rates between £750 and £1,500 (with an average of £1114) for 75,000 words. 4 of the 7 bidders were from India. At face value, fulfilling the request in that time does not seem realistic for anyone, but this may be enough to secure a successful PhD completion in Pakistan.
What About Buying A PhD Literature Review?
Just as one of the PhD mills advertises its approach of completing a PhD thesis in collaborative stages, a student using a freelance site may also outsource their PhD thesis chapter by chapter. This may be because they feel able to complete part of the thesis themselves, but need help with some sections, or they may use it as an opportunity to audition a writer to work with throughout the process.
Here is another freelance site example, taking bids, with 40 people from around the world offering to complete a 3,500 word literature review for a PhD thesis.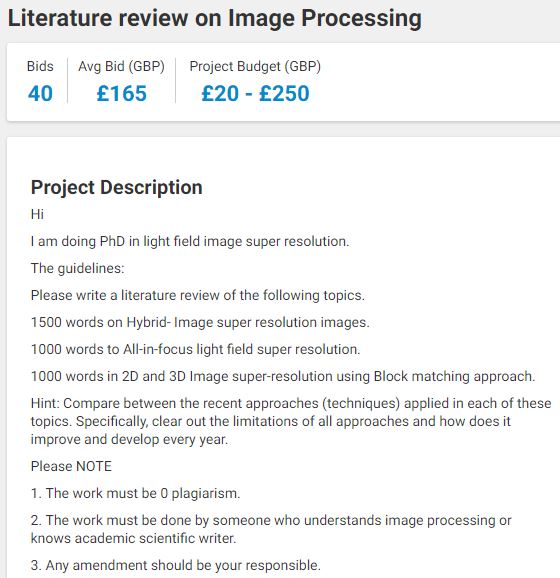 The person making the request states that they are in the UK (this information is mostly reliable as the requester is verified). They are also pricing in pounds, which is not common for people outside the UK.
They have proposed a budget between £20 and £250, with offers received between £20 and £500. The mean (average) offer is at £165 (which would be about £47 per 1000 words – when I looked at essay pricing, I found lots of people willing to work for £7.50 for 1000 words). Perhaps a better measure is the mode, where 17 offers are at £150 (or £43 per 1000 words).
This is a prolific group of bidders, with 4884 successfully completed jobs between them, with most coming from Kenya, Pakistan and India, but also including offers from the United Kingdom, United States, Australia and Canada.
Just looking at the bidder profiles is interesting. I even found a graduate from a university I used to work at (but not someone I knew), using his MBA as a credential, completing assignments for students and even preparing fake reference letters for them (for which the going rate is around £20 per fake reference).
It just goes to show that there are many ways to get a PhD if you're creative about it.
Should We Focus On The PhD Contract Cheating Market
The area is very much understudied. Although I've provided other examples in previous academic papers and talks the amount of data available is small, so it is difficult to study this systematically.
It does appear that PhDs are easier to achieve in some countries than others. We need employers to understand that not all qualifications are equal.
I've often discussed how an MBA is often just seen as a stepping stone to a higher level leadership job. So, people will contract cheat here. In some places, it appears that a PhD is also considered like this.
The good news is that, if academic integrity processes are suitably robust, simply buying a PhD level thesis in the UK should not be enough for its holder to be awarded a PhD title.
The student still has a spoken viva exam to get through.
Yes, students can train for this viva (and, as I've shown, there are services offering to prepare them), but here examiners need to have the confidence to fail the candidate if they do not have the in-depth knowledge and understanding that is required.
It all comes down to the academic integrity of the supervisory team and examiners, along with the institutional process this sits within. And getting the right student, with the motivation and ability to complete a PhD is important too. PhD students most certainly have a role to play in preserving academic integrity.