For academics, this request seems like a very reasonable price to pay to get someone else to get someone else to prepare a set of "good enough" slides for you.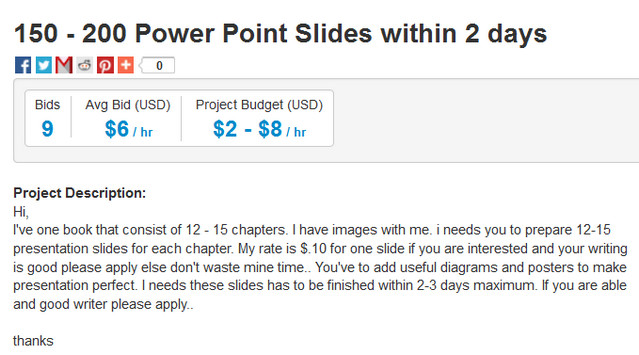 I had this example planned as a slide for one of my own research presentations, but with that presentation at 60 slides at present, this just wouldn't have fit it.
I support I could have saved myself a lot of time and had other people outbidding themselves to produce that talk for me for just $6 (£3.71 according to Google). Even comparing the options and paying double that to get a competent worker involved, this would represent a good deal.
There's certainly no excuse for academics to not have a set of slides prepared when you can get offers like that (9 bidders so far), although I'd recommend setting this type of auction up as a fixed price rather than paying by the hour. Of course, I don't know if paying someone to create your slides would be ethical…
What next? Get someone in to deliver the lecture (there are some that would argue that PhD students are already taken advantage of in that way…)?
Personally, I'm one of those people who has my own presentation style and likes to be very much in control of my own slides, but I see an increasing numbers of posts on agency sites like this one.