This is the sixth in a 10 part series looking at the changes that have surrounded contract cheating since the term was first publicised in a research paper and presentation in June 2006.
The Agency Site Model For Contract Cheating
When I first published and presented on contract cheating, the wider research centered around the agency site model, a visible process of auction, where students gave details of the work that they wanted completing and third parties bid financially to complete the work for them.
The agency site model is still visibly in operation, although it is now only one of a large number of ways that students are using to outsource their work.
In many cases, the agency site process is not as visible as it once was. Some requests for students to have essays written and assignments completed for them are now private, so that only the student can see the offers that they are receiving.
Essay mills have also started to use the agency site model. They solicit work from students at a set price, usually based on the number of pages, then use an internal competitive auction process, whereby their workers compete to be the lowest bidder and to "win" the opportunity to complete the work for the student.
Extending beyond the traditional work looking at Freelancer.com, Rentacoder.com and other agency sites, I've started to look at some of the more hidden services that students are using for contract cheating.
The Joys Of Fiverr.com
I've mentioned Fiverr in several of my talks and indeed first recorded a video looking at the ease of contract cheating through Fiverr.com back in 2012.
Since that time, the amount of cheating going on through Fiverr.com has grown substantially.
Like many other agency sites that students are using for contract cheating, at the face of it, Fiverr.com operates under a legitimate business model. Fiverr is a site where workers advertise services that they are willing to complete for $5 USD and up. When the site first launched, all Fiverr services were $5 USD each, but changes to the market have led to sellers being able to charge more to add further components to the order or to provide faster delivery.
Many of the offers available are useful or humorous. You can hire someone at the other side of the world to sing Happy Birthday to you over the Internet, or get a graphic designer to develop a new business logo. But offers for academic work are also visible across the site.
A search of Fiverr.com for the term "essay writing" shows 821 different offers matching this search term. An example showing the first screen of returned search results is included below: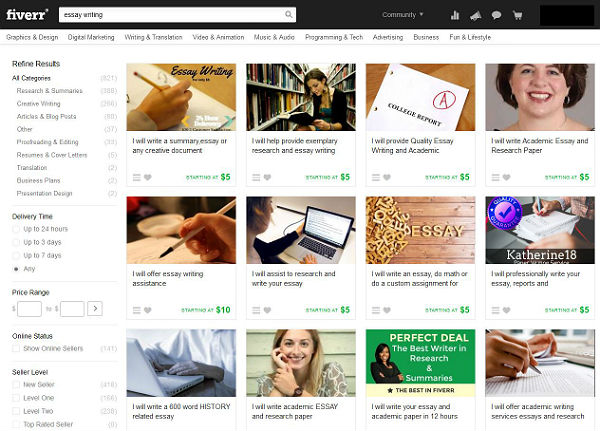 All of the top matches are clear examples of contract cheating, with advertising like "I will professionally write your essay", "I will offer academic writing services", an offer to "do math" and the statement "I will write a 600 word history related essay". On Fiverr.com, as begun to be the case elsewhere, niche advertising of subjects and specialities is visible. The image provided by one advertiser promises 2 1/2 hour delivery.
A more detailed analysis of the 821 results also shows some offers of the related areas of proof reading and essay tutoring. Despite this, it is clear that most of the 921 results are from individual writers and writing agencies. A quick look at the more detailed adverts for the 12 sellers shown in the image shows offers of "plagiarism-free work" and several with substantial numbers of previous reviews (the highest being 296 reviews). This suggests that the volume of contract cheating going through Fiverr.com is substantial.
821 providers is also likely to be an underestimate of the capacity available to help student cheating that is available on Fiverr.com. Other searches, such as a look for "term papers" provide further results, as do requests for "assignments", as well as more specialist subject terms like "computer programming". As with many contract cheating providers, there are also offers to provide PowerPoint slides for student presentations, to attend online tests and exams on behalf of the student and even services aimed at time-stretched academics and researchers.
Beyond The Surface Of Contract Cheating On Fiverr.com
As well as the visible adverts for contract cheating services on Fiverr.com, the site also operates an alternative approach using the agency model that was prominently seen in my earlier contract cheating research.
Buyers on the site can put in a request for a task that they'd like completing. They get a series of personalised offers sent back to them. Observations suggest that these are for much lower prices than traditional essay mills would charge.
I decided to put the deeper contract cheating opportunities available on Fiverr.com to the test.
In 2015, I took part in a contract cheating investigation with the Fake Britain TV programme, shown on BBC1. One of the essay writing firms also has this conveniently archived on their site. although it's not appropriate for me to link to it from here.
The TV programme contracted out a variant on one of my previous assignments (a 1500 to 2000 word literature review) to see how easy this assignment would be to cheat on. After a £275 payment, the TV programme received a professionally formatted document. This process took just three days. And, as the quote from me which was used on TV attests, I saw this as a good piece of work and worth a mark of around 65%.
I also ran the literature review through Turnitin. There was no evidence of unoriginality, which is the benefit of hiring a third party writer. There were a few small indications that this was produced by a non-native English speaker, but in the world of anonymous marking and where imperfections in work would be expected, this would not be likely to raise any alarm bells.
That particular assignment of mine is now retired (and actually already had a few differences to the ones I'd used in class to make it more TV friendly). I've never reused assignments anyway. What I have done is to follow student behaviour and use Fiverr.com to get price quotes for completing the same assignment. Like students requesting work do today, I deliberately provided only an overview of the assignment, along with a request for academic sources and that the work should be plagiarism free. I also used the offers already visible on the site to suggest what I thought would be an appropriate price point ($20 USD). I also asked for a three day turnaround to model the time taken by the TV investigation.
Even as a long-standing researcher in the field, the results I received back still surprised me!
16 Direct Contract Cheating Offers
Requests for custom orders on Fiverr.com are sent out directly to likely workers. These workers then have the opportunity to provide a custom quotation (a pricing bid) to complete the work. Some workers go further and also provide an associated pitch about why they should be chosen. As you may expect, a lot more information about the prospective hire can also be viewed, including their profile page, previous review comments and the details of the standard services that they advertise they are providing.
The number of custom responses provided is limited to the first people to reply. I believe that the maximum is 15 custom offers. One worker actually provided me with two offers (with different pricing depending on how quickly I wanted my custom paper back), so I consider that 16 personalised offers from 15 providers. Although I didn't monitor exactly how long it took to receive the offers, all of the slots were filled within a few hours (not a huge surprise to me due to the essay writing capacity visible on Fiverr.com).
The 16 offers received had fees ranging from $5 USD to $50 USD, with an average (mean) of $25.59 USD. 9 of the 16 offers (56.25%) came in at exactly the $20 USD price point that I'd suggested.
The turnaround times offered were between 1 and 3 days. 5 of the 16 offers (31.25%) also included free revisions in their pricing, with 2 of the 16 (12.5%) offering unlimited revisions. Although the other providers did not complete the revisions field, the escrow system in use at Fiverr.com means that the worker does not receive the money until they have delivered a satisfactory service, so an element of protection and an expectation of revisions already exists.
The providers who responded were spread around the world, with their stated countries including Australia, India, Pakistan, Kenya and the United States. Those largely match the expected demographics of essay providers as seen in previous studies. Although the majority of the unique bidders (6 out of 15, 40%) stated that they were in the United States, this also has to be viewed with caution. Advertising a US presence could also be seen as a good marketing ploy and there appear to be ways to get Fiverr accounts approved at the same time as hiding a real country of origin. In one of these US advertised cases, the associated English did not seem to me to be that of a native speaker.
4 of the 15 bidders (26.7%) provided personalised text along with their offer, focusing on the pricing or assignment details. A further 2 out of the 15 bidders (13.3%) filled in that field, but the text did not clearly relate to the project (for instance, one of these was offering to provide web content, rather than academic work). This likely shows workers who are quickly bidding for a large number of opportunities.
One area that may be of particular concern is that 2 of the 15 bidders (13.3%) making personalised offers also said that they would provide the Turnitin report for their work. There is a black market operating that provides access to Turnitin and which adds another big selling point to the arsenals of custom paper writers.
A closer examination of the profiles of the bidders revealed several with excellent credentials. On average, they had 21.4 reviews for previous work, including one provider with 136 reviews and claiming to hold an MBA. Another advertised their specialisation as writing medical and nursing papers. One provider advertised themselves as working in academia in a research field. Another pushed their use of up-to-date sources (as older sources can ring alarm bells in some academic fields). A further worker offered to send samples of the academic work that they were currently completing for others, something that may be of concern to anyone currently hiring them and expecting anonymity.
Only 12 out of the 15 unique bidders (80%) advertised essay writing work on their profile. The others bid for the work but did not already offer it. This suggests that the number of workers available to write essays on Fiverr.com may be much higher than those who are actively advertising to do so.
Should Fiverr.com Be Of Concern To The Academic Communities Interested In Contract Cheating?
This initial look at the contract cheating taking place on Fiverr.com has revealed another large section of the contract cheating market that has quietly begun operating.
Several of the people bidding to complete the literature review for me looked suitable for hire, having good credentials, proof of having delivered to previous customers and low price points (a fraction of the amount paid to an essay mill in the previous study with Fake Britain).
Although I have not had the work completed, the indicators are that there are several writers able to produce high quality work. It may also be the case that the writers students are able to directly connect with here would otherwise be working as the backbone of an essay mill.
A big lesson here is that the contract cheating industry is continuing to evolve. Although some companies charge relatively high prices and can profit off the back of students, there are other emerging technologies that connect students directly with writers and agencies for much lower costs.
There is no easy way to detect contract cheating using Fiverr.com, so this is where continued work on preventative approaches to contract cheating is needed.
This article is part of a series of posts looking at how the contract cheating world has changed over the past 10 years. Take a look at the other parts of the 10 in 10 contract cheating series here